Authentic Buddhist Prayer Beads: Meditation Mala Necklaces - Blessed by Real Monks
Buddhist's know that the goal of using Real Buddhist Prayer Beads or Buddhist Necklaces for Meditation is to create the Spiritual reality to free yourself from the material world. This is why Monk Mala is the best place to buy real and authentic Buddhist Prayer Beads. We provide the same Buddhist Necklace Mala that would be used by real Monks ….  plain, simple wooden Mala is used by Monks around the world.
At Monk Mala we provide Real Buddhist Prayer Beads that are made by Thai Buddhists and can be Blessed by Monks.  If you are wanting Real 108 Bead Buddhist Prayer Beads, it makes sense to use the same Real Buddhist Necklaces that real Monks wear and use.
Monk Mala is the best place to buy Buddhist Prayer Beads Necklace Mala- because our Genuine Buddhist Monk Beads Necklace Mala are able to and are Blessed by Monks.  We continue to show on our Social Media Monks Blessing our Buddhist Prayer Beads.
Monks around the world use plain, simple Wood or Stone Buddhist Prayer Beads Mala. Now sincere Japa Meditation practitioners don't need to settle …  You can have and use the Buddhist Monk Bead Necklaces Mala made in Thailand. Monk Mala is the best place to buy real Buddhist Mala Beads, and at a fraction of the cost of yoga studio jewelry.
Each Authentic Buddhist Prayer Bead Necklace has been Blessed by Thai Buddhist Monks for
Safe Travel
Inner Peace
Good Luck &
Personal Protection
Buying Authentic Buddhist Prayer Beads has never been easier!
If you have seen Buddhist Monks, in real life or in photos; you will notice that you will never see Monk's wearing or using Buddhist Necklace Mala Beads they got from Ebay, Amazon or a Yoga jewelry website. So why should you?
Monks and Asian Buddhists understand that the purpose of the Buddhist Authentic Mala Bead Necklaces is to be worn for personal protection or devotion, and/or to be used as a counting method for meditation. 
At Monk Mala we provide worldwide this spiritual purity for those seeking something beyond new age jewelry sold everywhere else.
NOW you too can use the same Buddhist Prayer Beads that Monks tend to wear.  AS an EXTRA bonus our Mala come with an Monk Blessing, to start your Prayer Beads off with positive energy as well as supporting local rural Temples.
For details why this is not a good idea for the person seeking spiritual Buddhist Necklaces you can read  Don't buy Buddhist Prayers Beads on Ebay or Amazon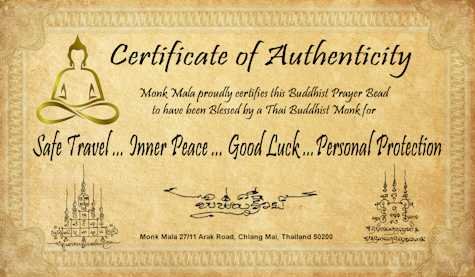 Shop By Buddhist Prayer Beads Categories
Monk Mala, the best place to buy Authentic Buddhist Prayer Beads Necklaces
100% Genuine Buddhist Prayer Mala Necklace for Meditation
Blessed by Real Monks for Meditation and Protection
Hand Crafted by local People – NOT from Chinese Factories
Real Mala Necklace – not new age jewelry made by Western Yoga studios
Use for Japa Meditation
Can be worn as a Magical Amulet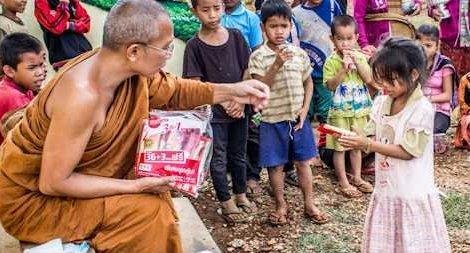 What are Buddhist Prayer Mala?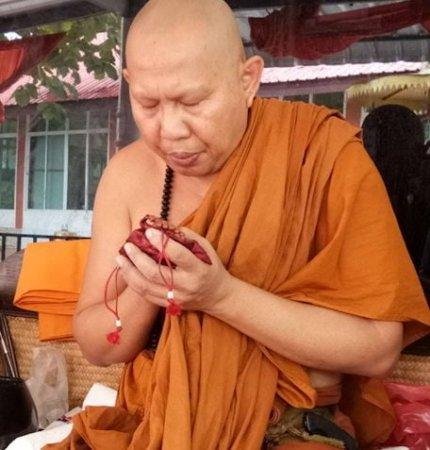 Buddhist Prayer Necklaces  or meditation malas are historic and traditional Asian methods of maintaining focus on the divine or mentally focusing within.
Usually made from 108 beads, a Buddhist Prayer bead necklace is used to count either, the number of times a mantra or holy prayer is recited, or breaths taken during a meditation session.
In addition they can be worn in a similar style to magical amulets for spiritual protection and as a personal affirmation of desired spiritual growth.
Prayer beads, of Buddhist, Christian and Muslim faiths serve as a way to remove the conscious effort involved with gaining higher levels of Spirituality.  Since no religion places any value in the pursuit of materialism, real Buddhist Prayer Beads are made from simply plain materials to allow purity of focus and intent on removing oneself from the glitz and glamor of the material world.  
At Monk Mala, we allow the unique opportunity for people who want real Buddhist Meditation Mala; sourced, made, used and blessed by Buddhist Monks in Asia. Our Buddhist Mala are made by local people with local materials – At Monk Mala, source locally and sell genuine Prayer Beads that are

Free International Shipping