Authentic Buddhist Prayer Beads
Real Buddhist Prayer Bead Mala Blessed by Monks
Buddhist's know that the goal of using Real Buddhist Prayer Beads Necklace for Meditation is to create the Spiritual reality to free yourself from the material world. This is why Monk Mala is the best place to buy real and authentic Buddhist Prayer Beads Necklaces. We provide the same Authentic Mala Beads Buddhist Necklace that would be used by real Monks.
Our Authentic Buddhist Prayer Beads Necklace's are made by in Thailand, Burma, India and Tibet, using the traditional wood, seed and stones that have been used for centuries. We have classified our Buddhist Prayer Beads in different types of Buddhist Necklace
1) Buddhist Prayer Beads
Wood Mala Beads usually 8mm designed for Meditation or worn as a Necklace
2) Buddhist Mala Beads
Mala Beads Necklaces include a silver guru bead to be worn Personal Protection amulet Jewelry
3) Buddhist Monk Beads
Includes larger (12mm) wooden Mala Beads Necklaces that are specifically the same type of Buddhist Prayer Beads Monks wear
4) Yoga Mala Beads

Wood or seed Yoga Mala Beads from India and used for Yoga forms of Meditation
What are Buddhist Prayer Beads?
A Buddhist Prayer Bead Necklace and Bracelet or Buddhist Mala Beads (Sanskrit: mālā "garland") are a traditional spiritual device used by Hindi, Buddhist and Yoga spiritual practices. Buddhist Prayer Mala Bead Necklaces, are usually made of 108 beads and used to….
a) Count the number of times a mantra or breaths are taken during meditation or
b) Used as magical Buddhist Jewelry to remind of spiritual intention or carry blessings
Monk Beads: Real Buddhist Prayer Beads Blessed by Monks
Authentic Buddhist Prayer Beads Necklaces are historic and traditional Asian methods of Meditation designed to maintain focus on a connection with the divine or mentally focusing within.  Buddhist Prayer Beads are often used by non Buddhists for Japa Meditation, or as a Yoga Mala.
Usually made from 108 beads, a Buddhist Prayer Bead Necklace or a Buddhist Mala are used to count either, the number of times a 1) mantra or holy prayer is recited, or 2) breaths taken during a meditation session. In addition they can be worn in a similar style to magical amulets for spiritual protection or as a personal affirmation of desired spiritual growth goals.
Buddhist Prayer Beads, like Christian and Muslim Mala Beads serve as a way to remove some of the conscious effort involved with connecting too and thus gaining higher levels of Spirituality.  Since no religion places any value in the pursuit of materialism, real Buddhist Prayer Beads are made from simply plain materials to allow purity of focus and intent on removing oneself from the glitz and glamor of the material world.  
At Monk Mala, we allow the unique opportunity for people who want real Buddhist Prayer Beads; blessed by Buddhist Monks in Asia. Our Buddhist Mala are made by local people with local materials and are the same type of Monk Beads you will find a Buddhist Monk wearing. Not only can we sell them for almost half the price of your local New Age or Yoga store.   We ONLY provide genuine Prayer Bead Mala, which allows us to have Real Monks Blessings given before mailing each item to our customers.
The Best Place to get Authentic and Real Buddhist Mala Beads Necklace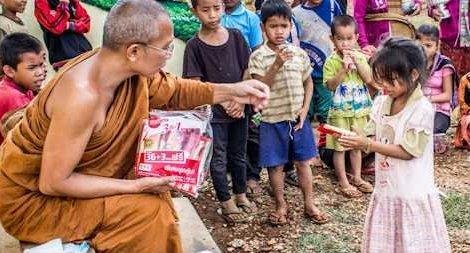 100% Genuine Buddhist Prayer Beads Mala Necklace for Meditation
Blessed by Real Monks for Meditation and Protection
Hand Crafted by local People – NOT from Chinese Factories
Real Buddhist Mala Necklace – not new age jewelry made by Western Yoga studios
Use for Japa Meditation
Can be worn as a Magical Amulet
How do you know it's an Authentic Buddhist Prayer Beads?
Monks around the world use plain, simple Wood or Stone Buddhist Prayer Beads Mala … That is all Monk Mala Sells!
Yoga studios and western new age stores might have the best of intentions – BUT they also offer jewelry styled Buddhist Necklaces and fancy looking Prayer Beads that would would never see on real Monk or Asian Buddhist.
Monks Blessing for Monk Bead Prayer Necklace
Each Buddhist Necklace Mala has been Blessed by Real Buddhist Monks for
Safe Travel
Inner Peace
Good Luck &
Personal Protection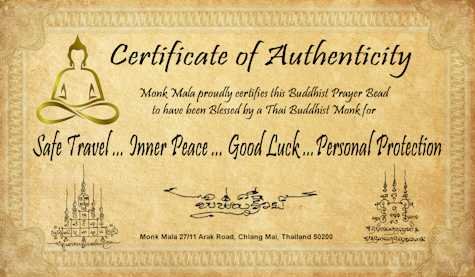 Each Mala and Buddhist Prayer Bead Necklace comes certified as Authentic and Real
Shop By Buddhist Mala Beads Categories
Popular Buddhist Prayer Beads Sold This Month
Monk Mala, the best place to buy Authentic Buddhist Prayer Beads Necklaces

Free International Shipping