Description
Monk Blessed Authentic 12mm 108 Bodhi Seed Mala Prayer Beads Necklace

Bead Size: 10-12mm
Number of Beads: 108
Neck Hanging Length: ~58 cm
Tassel Type: Assorted: 1 or 2 beads on String
Tassel Length: 6-9cm double string
Guru Bead:  Bodhi Bead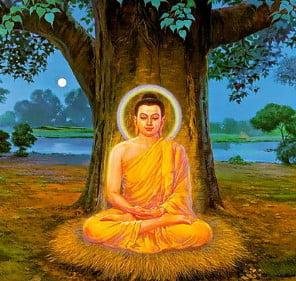 Origin and Meaning of Bodhi Seed Mala Prayer Beads Necklace

Bodhi in sanskrit translates to "enlightened" or "awakened," therefore the bodhi seed means "enlightened seed." Bodhi is also a term in Buddhism to reflect a Buddha's understanding of the true nature of things. This makes the Bodhi Seed Mala Necklace Prayer Beads the ultimate meditation mala gift for the spiritual seeker. 
It is said that while Prince Siddhartha was sitting under a Bodhi tree meditating, he became Buddha through enlightenment. Thus the Bodhi Seed Prayer Bead is highly prized as the Buddha Bead necklace for obtaining enlightenment.
Many Buddhist use the Bodhi Seed Prayer Beads Mala during their meditation practices to ultimately reach enlightenment. The seeds have a special significance to all seekers of divine wisdom not matter what form of eastern religious philosophy is followed.
The Bodhi Tree and Bodhi Seed Mala Prayer Beads Necklace
Buddha and bodhi The Bodhi Tree (Sanskrit: बोधि) also known as Bo (from Sinhalese: Bo) and "Peepal tree", was a large and very old sacred fig tree (Ficus religiosa) located in Bodh Gaya, under which Siddhartha Gautama, the spiritual teacher who later became known as the Buddha, is said to have attained enlightenment (Bodhi). In religious iconography, the Bodhi Tree is recognizable by its heart-shaped leaves, which are usually prominently displayed.
Where Bodhi Seed Mala  Necklace is Made
These Bodhi seed Yoga Mala come from India that has been produced by a small company serious about providing faith products, that has a scientific foundation using knowledge of ancient Vedic scriptures. The company has there own Bodhi trees and harvest the seeds in limited quantities from the Goya area of India
Uses of this Bodhi Seed Mala Prayer Beads Necklace Yoga Meditation Mala 
Bodhi Seed Beads are used by Yoga practitioners, Hindi's and Buddhists for Japa Meditation and Healing. The Bodhi Seed Prayer Bead Mala is especially used for becoming closer to spiritual enlightenment in many different eastern influenced and western new age practices.
Used for Japa Meditation to gain enlightenment (although mostly to become more spiritual) this beautiful seed Mala, has a string tassel in with one or two tassel beads depending on supply.
Each Bodhi Seed Mala Prayer Bead Necklace includes a Certificate of Authenticity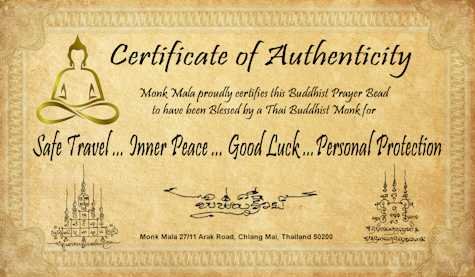 Monk Blessed Buddhist Prayer Beads: Monk Mala is part of Sak Yant Chiang Mai; which is a small co-op of over 10 Sak Yant Monks and Ajarns providing Sak Yant Tattoo's in Chiang Mai Thailand. The Sak Yant co-op allows Monk Mala to source it's Authentic Buddhist Prayer Bead Necklaces from the same small local suppliers that the Monks and Ajarns themselves use. We are also easily able to have the Monks Bless the Buddhist Mala since we are in daily contact with these special Monks.
Sak Yant Masters both Monks and Ajarns (an ex-monk but still practicing the magical arts) are a specialized  group of Buddhist Monks who in addition to the 227 life rules, incorporate into their daily lives the use of magical blessings of people, objects, amulets and tattoos.  The spiritual lives of these Master Monks, makes their blessing extremely powerful and we are privileged to be unique in the world to offer this additional benefit for our 100% real and authentic Buddhist Prayer Bead Necklace.