Real Buddhist Mala Bead Necklace Blessed by Monks
At Monk Mala, we specialize in Buddhist Mala Beads …  the same type of authentic Mala Beads Necklace that are worn and used by Real Monks.  We source our Authentic Mala Beads Necklaces from the same Temples and local artisans as the Buddhist Monks, making Monk Mala the best place to Buy Real Buddhist Mala Beads.
Because we provide real and authentic Buddhist Mala Bead Necklaces we are able to also get our Monk Beads blessed by Monks at local Temples around Chiang Mai for you to use as a meditation or protection Mala Necklace.
Watch a Video of our Authentic Mala Beads Blessed by a Real Monk
Monk Mala, not only provides the same type of Buddhist Prayer Beads that are used by real Monks.  Our Authentic Monk Bead are Blessed by Monks for our customers to charge them with sacred power for you the customer.
Why Have Authentic Mala Beads Blessed by Monks?
Monk Mala Beads Blessed - The Beginnings
Monk Mala started to sell it's real and authentic Mala Beads Blessed by Monks online as a result of many emails to our parent business from previous customers at Sak Yant Chiang Mai.  At Sak Yant Chiang Mai we provide authentic Sak Yant Tattoo's and as part of this service many customers wanted the Buddhist Monks to Bless their Mala Prayer Beads.
At the beginning many of the Buddhist Prayer Beads our Sak Yant guests brought with them were cheap fakes made in China they had purchased either online or at local street markets.  While it is easy to find cheap Chinese made Mala in the Thai Markets (actually all over Asian street markets) – the Monks felt uncomfortable providing sacred blessings for substandard Buddhist Mala.
The Monks told us where they buy their own Monk Bead Necklaces, and suggested we also purchase Real and Authentic Buddhist Mala Beads which they would happily bless for our customers.
Over time many of the customers of Sak Yant Chiang Mai, wrote emails requesting our real and authentic Mala Bead Buddhist Necklaces, asking if we could have the Mala Prayer Beads at our shop blessed by the same Monk that did their Tattoo and mailed to them at home. 
Monk Blessed Buddhist Mala Beads
Over time, Sak Yant Started getting emails from people who have received our Blessed Buddhist Prayer Beads as gifts, wanting to purchase more.  Many people having experienced an authentic Mala Beads Necklace that came with a Blessing by Monks could feel the energy and power that came with the Prayer Mala. 
So we started Monk Mala as a website, which quickly became the best place to buy real and authentic Buddhist Mala Beads Online.  With every purchase of Monk Mala Buddhist Prayer Beads, we take your special item to one of our Sak Yant Monks and have them preform a Blessing to give the Mala a positive charge of magical protection and power before they are sent to you.
Monk Mala makes a donation to the Monk or his Temple with every purchase, ensuring that at every stage from making the Buddhist Authentic Mala Beads to having it blessed we can share the income with as many deserving people as we can. We are truly grateful that you are thinking to purchase from Monk Mala to help the small independent traditional Prayer Bead making families and local Temples.  We are blessed by the Monks to have the opportunity to be able to provide our real and Authentic Blessed Monk Beads Mala Necklaces.  And we make a real effort to share the Blessings that our customers give us with their purchase with Buddhist Monk Prayer Beads.
Do your Buddhist Prayer Beads need to be Blessed by Monks?
Short answer is no they do not. As you use your Buddhist Mala Bead Necklace, you are transferring your intention, purpose and desires into the Mala. Over time and over use your mala necklace will be a symbolic and energetic representation of this purpose and will trigger a normal psychological reaction.
If you do not believe in the magic power of the Monks Blessing itself, the necklace is a subconscious representation that becomes associated with it's purpose. Just like a positive affirmation each time you see or use the Buddhist Mala, it triggers a subconscious program designed to make this more of a reality. Thus like hypnosis, the act of using the mala triggers a whole system of beliefs and behavior change which become programmed into your personality and stronger with each use
If you believe in the power of thoughts and transference of energy, then in addition to a subconscious symbol, the Buddhist Prayer Beads are also a storage system for the positive intention of the energy you have spent in focus.
We have the Monks Bless the necklace mala, to start this process of having positive energy and association with the Mala. Be it used for protection, or as part of your spiritual growth, the Monks Blessing is the starting point – which you then reaffirm and recharge with your use and wearing of the Mala.
The Specialists: The Monks who Blessed our Buddhist Mala Beads
The Power of the Sak Yant Monk and their Blessings
As Buddhism started to spread throughout Asian, it adapted and blended with the traditions that each country had held for thousands of years.  Most notably in Burma, Cambodia and Thailand Buddhism incorporated the magical traditions of the Sak Yant Tattoo. 
The Sak Yant Tattoo is highly prized among these countries as the most powerful Talisman magic charm available to be received by Monks.  Buddhist Monks who wish to specialize in these magical blessing spend a considerable few years studying the philosophy of Magical Blessings, and eventually become Masters.
Sak Yant Monks:  The Most Powerful Blessings
It stands to reason, if you are going to get a Blessing from a Monk, you might as well select a sect of Monk who is highly regarded in Buddhism for having considerable power and strength to normal blessing by adding a touch of Magic to it.  Monk Mala in conjunction with has a variety of Thai Buddhist Monks that bless our Mala Prayer Beads on behalf of each customer.
Donations to Temples

Sak Yant Monks are usually requested to work from Temples which require donations to upgrade or improve their buildings.  As such almost all Sak Yant Monks work from small rural Temples rather than the older and wealthier city Temples visited by Tourists to Asian.  Monk Mala, in addition to supporting local crafts community's who make the real Buddhist Mala, offer a donation to each Monks Temple for their blessing of your Prayer Beads.
Buddhist Prayer beads Blessed by Monks
Buddhist Prayer Beads Blessed by Monks: Meet the Monks
Monk Rachon from Temple Nhong Pha Muad in Chiang Mai Thailand has been a Sak Yant Monk for 38 years
Monk Rung is from Wat Aramrongtai Temple and has been a Buddhist Monk for 20 years
Monk Eak from Temple Metowhai in Chiang Mai has been a Sak Yant Monk for 12 years
Monk Eng from Temple Eng Tang in Chiang Mai Thailand has been a Sak Yant Monk for 9 years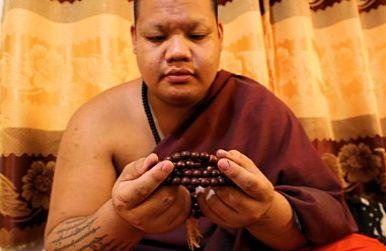 Monk K is from Cham Chang Temple and has been a Buddhist Monk since the age of 9 years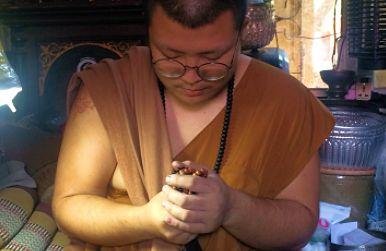 Monk Beer is a 5th generation Sak Yant Master from Wat Pa Bong. He has been a Monk for 10 years.