Description
Monk Blessed Authentic 108 Lotus Seed Prayer Bead Mala Necklace

Bead Size: 10mm (W) 14mm (H)
Number of Beads: 108
Neck Hanging Length: ~75 cm
Tassel Type: Red Cotton
Tassel Length: 3cm
Guru Bead:  Lotus Seed
Sacred to the goddess Lakshmi (One who sits on a Lotus) also called Mamalgatta Mala. The Goddess is easily appeased if one uses this rosary for the chanting of Her mantra and She bestows upon him wealth and comforts.
The lotus flower represents the symbol of fortune. It grows in muddy water, and it is this environment that gives forth the flower first and most literal meaning: rising and blooming above the murk to achieve enlightenment. It also resembles the purifying of the spirit which is born into murkiness. It also signifies that those who are working to rise above the muddy waters will need to be faithful followers.
Lotus Seed Prayer Bead Mala Necklace
Lotus Flower: Great significance in Tibetan Buddhism. Many deities are depicted seated upon lotus flowers, or in some cases such as Padmasambhava (The Lotus Born), having arisen from Lotus Flowers. The lotus has a special quality of being pristine and beautiful, and having prominently arisen from the murkiness of a swamp.This signifies our Buddha Nature: from the darkness of our confusion, the brightness of our awakened heart can be born.
Lotus flowers are symbols of spiritual growth and of overcoming obstacles on the path to enlightenment, because of their ability to remain peaceful, beautiful and pure despite obstacles. Using Lotus seed beads is a great reminder of this concept.
Where Lotus Seed Prayer Bead Necklace Mala is Made
These Lotus Seed Prayer Bead Yoga Mala Necklace come from India that has been produced by a small company serious about providing faith products, that has a scientific foundation using knowledge of ancient Vedic scriptures. The company has sourced these Lotus Seed Prayer Bead Yoga Mala from organic Lotus Seeds
Uses of this Lotus Seed Prayer Bead Mala Necklace
Lotus Seed Prayer Bead Mala are used by Yoga practitioners, Hindi's and Buddhists for Japa Meditation.  If one lotus seed mala is worn around the neck, and another is held in the hand during mantra Japa, Divine Mother in the form of the kundalini energy touches all the chakras, cleansing them and making them bloom like radiant lotus blossoms.
Each Lotus Seed Prayer Bead Mala Necklace includes a Certificate of Authenticity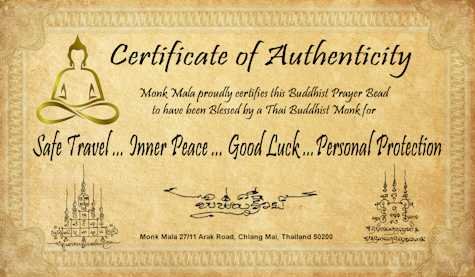 Monk Blessed Buddhist Prayer Beads: Monk Mala is part of Sak Yant Chiang Mai; which is a small co-op of over 10 Sak Yant Monks and Ajarns providing Sak Yant Tattoo's in Chiang Mai Thailand. The Sak Yant co-op allows Monk Mala to source it's Authentic Buddhist Prayer Bead Necklaces from the same small local suppliers that the Monks and Ajarns themselves use. We are also easily able to have the Monks Bless the Buddhist Mala since we are in daily contact with these special Monks.
Sak Yant Masters both Monks and Ajarns (an ex-monk but still practicing the magical arts) are a specialized  group of Buddhist Monks who in addition to the 227 life rules, incorporate into their daily lives the use of magical blessings of people, objects, amulets and tattoos.  The spiritual lives of these Master Monks, makes their blessing extremely powerful and we are privileged to be unique in the world to offer this additional benefit for our 100% real and authentic Buddhist Prayer Bead Necklace.