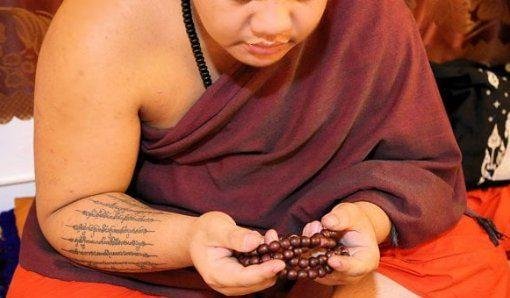 Buy Real 108 Mala Beads Buddhist Necklace
108 Mala Beads: Buddhist Necklace For Protection For Sale
Real and Authentic 108 Mala Bead Buddhist Necklace that have been Blessed by Monks. These Genuine Buddhist Necklace Protection Mala Beads are made from sacred wood of Burma, Thailand and India, with a Silver Guru Bead. To be worn as a amulet for protection.
What are 108 Mala Beads Buddhist Necklace ?
108 Mala Beads Buddhist Necklace can be stunning pieces of jewelry, usually in the form of necklaces and bracelets. Originally used by Buddhist for Meditation, Buddhist Mala Beads have been used as a Spiritual fashion accessory, with many people wearing them who do not follow the Buddhist faith.
The 108 Buddhist Necklace Mala Bead have a spiritual use, in meditation and in prayer and every part of the design of our Buddhist Necklace Mala beads has a reason.  The Buddhist Mala originally derived from the Hindu 'Japa Mala' used in meditation, consisting of 108 beads, and used as a counting device for reciting Mantra. However that design has a stunning visual appeal and can be worn as jewelry. 
At Monk Mala we have made a distinction between Meditation Mala used for Japa Mediation and what we simple called Buddhist Monk Beads Necklace.  These Buddhist Necklace Mala Beads Necklace uses the same sacred wood and stones used in Meditation Mala, but we have added a Silver Guru Bead so that the Buddhist Mala Beads Necklace can be worn as an Amulet with the Protection of the Monks Blessings.
Real and Authentic 108 Buddhist Necklace Mala Beads: Blessed by Thai Monks
Choosing your 108 Mala Beads Buddhist Necklace
Buddhist Mala Beads Necklace Jewelry come in a range of styles and colors. The beads themselves can be made from seeds, precious or semiprecious stones, wood, or other materials.
Since you'll use the Buddhist Mala Beads to promote calm, peace and relaxation, it's important to choose beads that feel good to you. There's no right or wrong choice here. Look for a Buddhist Mala Bead Necklace that speaks to you. When looking at a specific mala, ask yourself:
Does it look like it would feel good to touch?
Is it beautiful to me?
Is it made out of a stone or seed that has a special meaning to me?
If your answer to any of these is "yes," the mala should work just fine for you.
The Guru bead (above tassel)
This bead signifies finishing a complete practice. Once you reach this bead, you can stop chanting or go again. If you are using the Mala bracelet alongside your meditation practice, you will repeat your chanting 18 times; one cycle for each bead. Monk Mala has used a silver Guru bead to distinguish the Buddhist Mala Beads from Prayer beads used for Meditation.
The Tassel
The tassel symbolizes eternity and is usually pointed towards you when you begin meditating with the Mala necklace. Alternatively, the tassel can symbolize a lotus blossom, which is a symbol of enlightenment.  At Monk Mala we offer a choice of colors for different meanings.
Our Selection of Real and Authentic 108 Buddhist Necklace Mala Beads for Protection
Every Real and Authentic 108 Buddhist Necklace Mala Beads sold includes includes a Certificate of Authenticity and Thai Silk Bag included free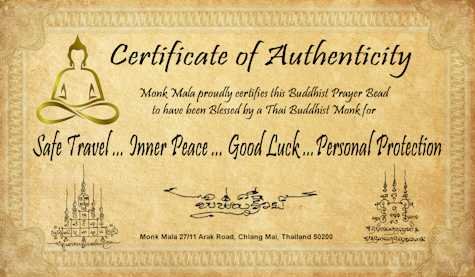 If your going to get a Real and Authentic 108 Buddhist Necklace Mala Beads to wear for its power to bring calm and peace.  Better to get a Buddhist Necklace Mala that is Monk Blessed.  Monk Mala is part of Sak Yant Chiang Mai; which is a small co-op of over 10 Sak Yant Monks and Ajarns providing Sak Yant Tattoo's in Chiang Mai Thailand.
With regular Visits to Temples for the Monks Sak Yant Tattoo, we are able to take each Buddhist Mala Bead Necklace with us for a special blessing for our customers. 
The Sak Yant co-op also allows Monk Mala to source it's Authentic Buddhist Buddhist Necklaces from the same small local suppliers that the Monks and Ajarns themselves use.

Free International Shipping

100% Real Buddhist Necklace