Description
Monk Blessed Authentic 108 Bead Wood Wood Buddhist Mala Prayer Beads Necklace with Silver Guru Bead

Bead Size: 8mm Circumference hole to hole
Number of Beads: 108
Neck Hanging Length: ~37-40 cm
Tassel Type: Yellow, Black Red Cotton
Tassel Length: 5cm
Guru Bead:  Silver
Wood Buddhist Mala Necklace Meaning
Monk Mala, is proud to offer the same type of Wood Buddhist Mala Prayer Beads Necklace worn by real Burmese Monks. These authentic Mala bead Necklace consist of 108 beads made from Burmese Narra with the addition of a Silver Guru Bead.
This Buddhist Mala Bead Necklace comes with a choice of Yellow, Black or Red Tassel for fine tuning the purpose and meaning of the Wood Buddhist Mala Necklace to individual desires.   Natural wood is used to focus on freedom of material desires, with Monk Blessed for Personal Protection. The Pterocarpus tree flower, (the Burma padauk) flower is considered a National symbol for the Myanmar Buddhists. This beautiful Mala Beads Necklace are designed to be worn with Monks Blessing for protection.
Made in Burma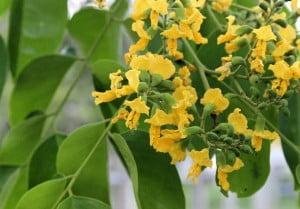 8mm Narra Wood Buddhist Mala Prayer Beads Necklace with Silver Guru

Pterocarpus macrocarpus is a medium-sized tree growing to 10–30 m (rarely to 39 m) tall, with a trunk up to 1.7 m diameter; it is deciduous in the dry season. The wood is durable and resistant to termites; it is important, used for furniture, construction timber, cart wheels, tool handles, and posts; as well as a stable component of Prayer beads. Although not a true rosewood it is so similar that it is often sold and traded as such.
How the 8mm Narra Wood Buddhist Mala Prayer Beads Necklace with Silver Guru Mala is Made

These Narra Wood Buddhist Prayer Beads are made in Burma by local tradespeople and then sent to Buddhist Monks all over Asia
Uses of this 8mm Wood Buddhist Mala Necklace 108 Beads with Silver Guru

This wonderful Mala can be used for Japa Meditation (counting Mantras in Meditation) or worn around the neck to offer protection and remind the wearer to live in accordance with honorable life principals. Monk Blessed for Personal Protection so that the owner can wear as Buddhist Mala Jewelry.
This Real Buddhist Prayer Bead Necklace comes with its own Thai Silk Prayer Bead Bag and certificate of authenticity

Each 8mm Wood Buddhist Mala Prayer Beads Necklace with 108 Beads includes a Certificate of Authenticity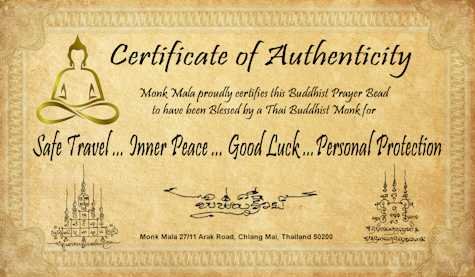 Monk Blessed Buddhist Mala Beads: Monk Mala is part of Sak Yant Chiang Mai; which is a small co-op of over 10 Sak Yant Monks and Ajarns providing Sak Yant Tattoo's in Chiang Mai Thailand. The Sak Yant co-op allows Monk Mala to source it's Authentic Narra Wood Buddhist Mala Necklace with 108 beads from the same small local suppliers that the Monks and Ajarns themselves use. We are also easily able to have the Monks Bless the Buddhist Mala since we are in daily contact with these special Monks.
Sak Yant Masters both Monks and Ajarns (an ex-monk but still practicing the magical arts) are a specialized  group of Buddhist Monks who in addition to the 227 life rules, incorporate into their daily lives the use of magical blessings of people, objects, amulets and tattoos.  The spiritual lives of these Master Monks, makes their blessing extremely powerful and we are privileged to be unique in the world to offer this additional benefit for our 100% real and authentic Narra Wood Buddhist Prayer Bead Necklace.
What Color Tassel should you choose?
The color of 108 Mala Beads Buddhist Necklace Tassel overall makes little difference.  You should choose which color appeals to you the most.  If you are looking to fine tune your Buddhist Mala Necklace, the following might act as a guide if a personal choice is not obvious to you.