Description
Monk Blessed Authentic 108 Bead 5 Faced Rudraksha Seed Mala Prayer Beads Necklace with Silver Guru

Bead Size: 8mm Circumference hole to hole
Number of Beads: 108
Neck Hanging Length: ~62 cm
Tassel Type: Red String
Tassel Length: 4cm
Guru Bead:  Silver Guru Bead
The Rudraksha Bead Mala Necklace is very good for meditation and believed to help in controlling many health problems like Blood pressure, Breast ailments, Memory enhancer, acidity, fistula and Cardiac problems.
It is not only beautiful to look at and feel, these very powerful and auspicious Rudraksha beads have energies that resemble the calming benefits of water therapy.
Yoga Rudraksha Seed Mala Prayer Beads Necklace with Silver Guru Bead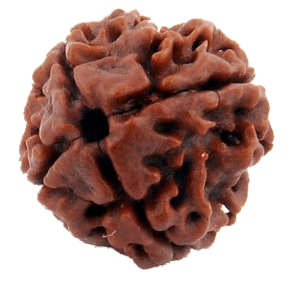 The Sanskrit name is comprised of the words Rudra (another name for Lord Shiva) and akṣha ("eyes"). Also know as "the eyes of Lord Shiva".
The Rudraksha bead is said to originally come from Shiva's tears. According to mythology, Lord Shiva was said to have spent 1000 years in meditation for the benefit of all beings, and upon opening his eyes, tear drops rolled down from his eyes and landed upon the earth taking birth as the sacred Rudraksha tree.
Rudraksha Mala having evolved from the eyes of Lord Shiva, with Rudra being another name for Lord Shiva and Aksha meaning eyes. Aksha also refers to the letters of the Sanskrit alphabet- called Varna- and as such, can be inferred as a seed in which a group of Sanskrit letters called Varna reside.
Where the Yoga Rudraksha Bead Mala Necklace with Silver Guru Bead is Made
These Rudraksha seed Yoga Mala come from India that has been produced by a small company serious about providing faith products that has a scientific foundation using knowledge of ancient Vedic scriptures. The company has there own Rudraksha trees and harvest the seeds in limited quantities
Uses of this Yoga Rudraksha Seed Mala Prayer Beads Necklace with Silver Guru Bead

Rudraksha Beads are used by Yoga practitioners, Hindi's and Buddhists for Japa Meditation and Healing.  The Rudraksha seed Yoga Mala has a reputation for having strong effects on mental and physical health; which has apparent Indian research behind it.  We have created the Mala Bead Necklaces with Silver Guru beads to be worn as jewelry and have had the Monks Bless this Necklace for Personal Protection
Thai Silk Prayer Bead Bag

This beautiful blessed Yoga Prayer Bead comes with free carry bag made by a local Thai artisan
Each Rudraksha Seed Mala Prayer Beads Necklace with Silver Guru Bead for Personal Protection includes a Certificate of Authenticity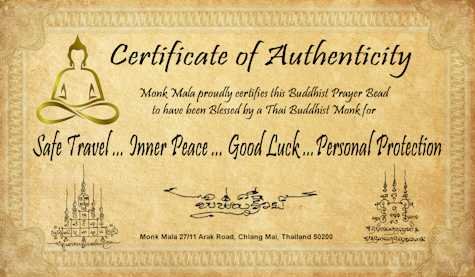 Monk Blessed Buddhist Prayer Beads: Monk Mala is part of Sak Yant Chiang Mai; which is a small co-op of over 10 Sak Yant Monks and Ajarns providing Sak Yant Tattoo's in Chiang Mai Thailand. The Sak Yant co-op allows Monk Mala to source it's Authentic Buddhist Prayer Bead Necklaces from the same small local suppliers that the Monks and Ajarns themselves use. We are also easily able to have the Monks Bless the Buddhist Mala since we are in daily contact with these special Monks.
Sak Yant Masters both Monks and Ajarns (an ex-monk but still practicing the magical arts) are a specialized  group of Buddhist Monks who in addition to the 227 life rules, incorporate into their daily lives the use of magical blessings of people, objects, amulets and tattoos.  The spiritual lives of these Master Monks, makes their blessing extremely powerful and we are privileged to be unique in the world to offer this additional benefit for our 100% real and authentic Buddhist Prayer Bead Necklace.