Description
Monk Blessed 8mm Tiger Eye Buddhist Mala  Beads Necklace
with Silver Guru

Bead Size: 8mm Circumference hole to hole
Number of Beads: 108
Neck Hanging Length: ~37-40 cm
Tassel Type: Black or Red Cotton
Tassel Length: 5cm
Guru Bead:  Silver
Monk Mala, is proud to offer the this beautiful Stone Tiger Eye Buddhist Mala Prayer Beads Necklace  made at Chiang Mai's famous Doi Suthep Temple in Thailand.   These authentic Mala consist of 108 8mm beads made from Tigers Eye stone, with a silver guru bead and finished with a Red or Black cotton tassel
Tiger Eye Buddhist Prayer Beads Necklace with Silver Guru
Tiger's Eye said to be ever vigilant, bringing sharpness to one's inner vision and better understanding of the cause and effect of each situation. It encourages one to use their powers wisely, and allows scattered information to be brought together to a cohesive whole. Tiger's Eye supports necessary change in all aspects of one's life, strengthening the will and clarity of intention in order to manifest at the highest level. It inspires creativity and utilizing one's talents and abilities, and is superb for stimulating wealth and the good judgement needed to maintain it
Made in Thailand by local Artisan
How the Tiger Eye Buddhist Prayer Beads Necklace with Silver Guru is Made
The Tigers Eye Neck lace is made by a local artisan in Chiang Mai Thailand.  At Monk Mala, our goal is to help as many of the local artisans who are native to the country of origin of our Mala's as we can.  We are delighted to have selected Noi to produce our stone Mala's because she is a single mother and works long hours usually 7 days a week to provide for her family.  In addition Noi and her little shop have a reputation among the local community and the Temple Monks of being an honest and good person.
Uses of this 8mm Stone Tiger Eye Buddhist Mala Beads Necklace with Silver Guru

This wonderful Mala can be used for Japa Meditation (counting Mantras in Meditation) or worn around the neck to offer protection and remind the wearer to live in accordance with honorable life principals.  Especially designed as Monk Blessed Buddhist Jewelry to be worn for Personal Protection
This Real Buddhist Prayer Bead Necklace comes with its own Thai Silk Prayer Bead Bag and certificate of authenticity

Each Tiger Eye Buddhist Mala Beads Necklace includes a Certificate of Authenticity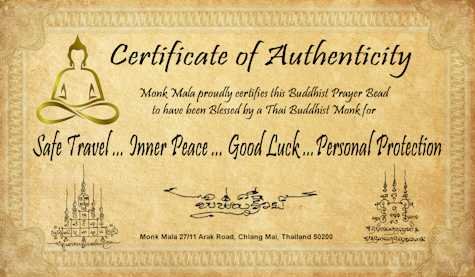 Monk Blessed Buddhist Prayer Beads: Monk Mala is part of Sak Yant Chiang Mai; which is a small co-op of over 10 Sak Yant Monks and Ajarns providing Sak Yant Tattoo's in Chiang Mai Thailand. The Sak Yant co-op allows Monk Mala to source it's Authentic Buddhist Prayer Bead Necklaces from the same small local suppliers that the Monks and Ajarns themselves use. We are also easily able to have the Monks Bless the Buddhist Mala since we are in daily contact with these special Monks.
Sak Yant Masters both Monks and Ajarns (an ex-monk but still practicing the magical arts) are a specialized  group of Buddhist Monks who in addition to the 227 life rules, incorporate into their daily lives the use of magical blessings of people, objects, amulets and tattoos.  The spiritual lives of these Master Monks, makes their blessing extremely powerful and we are privileged to be unique in the world to offer this additional benefit for our 100% real and authentic Buddhist Prayer Bead Necklace.
What Color Tassel should you choose?
The color of Buddhist Prayer Bead Necklace Tassel overall makes little difference.  You should choose which color appeals to you the most.  If you are looking to fine tune your Buddhist Mala Necklace, the following might act as a guide if a personal choice is not obvious to you.