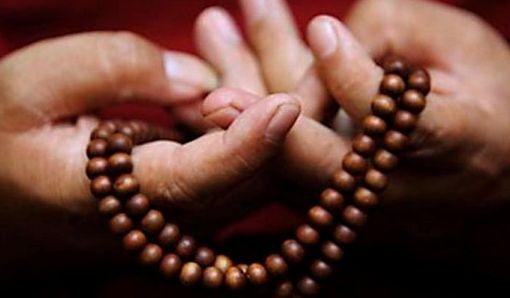 Authentic Buddhist Prayer Beads Meditation Necklace
Blessed by Monks 108 Genuine Buddhist Prayer Beads Buddhist Meditation Necklaces
Authentic 108 Bead Buddhist Prayer Beads Meditation Necklace that have been Blessed by Monks.  Each Authentic Buddhist Prayer Bead Necklace from Monk Mala has Powerful Blessings for Protection by Real Buddhist Monks.  These Genuine Buddhist Prayer Beads Necklace have been created for Japa Meditation and to be worn as Mala Beads Jewelry Amulets to be worn for Personal Protection
What are Authentic Buddhist Prayer Beads Meditation Necklace?
Real and Authentic Buddhist Prayer Beads 108 Meditation Necklaces that are the same type of Prayer Bead Necklace Mala used by Asian people and Buddhist Monks.
Made from a variety of holy wood from Thailand, India and Burma these Buddhist Mala Bead Meditation Necklaces now available worldwide by people wanting real mala beads necklaces for mediation or to be worn as jewelry.
Classic Mala Beads Meditation necklace that are used by Buddhist around the world. All of our Buddhist Mala Beads have been blessed by Monks and can be used for both Japa Meditation or worn as real Buddhist Jewelry as a Protection Amulet. For convenience we have divided the Buddhist Mala into two Categories.
Buddhist Prayer Beads: Buddhist Monk Bead Mala ideally used for Meditation.

Buddhist Necklace Mala Jewelry : Buddhist Jewelry that have been given a Monks Blessing for Protection for the wearer
Our Buddhist Prayer Beads Necklace: Meditation Mala
Real Buddhist Prayer Bead Necklaces that are the same type of Monk Bead Mala used by Asian people and Buddhist Monks.  Real Meditation Necklace Mala for the spiritual person desiring the real thing over the Yoga Jewelry provided on Amazon and other websites.
All of these Monk Bead Buddhist Necklaces are made with the traditional number of 108 Beads including the Guru Bead.  Monk Mala (unlike Amazon, EBay or Esty who sell mass produced Chinese factory items or local new age Yoga studio made Mala) source the raw materials from Asia from real local artisans.
Most Buddhist Prayer Bead Necklaces below have options of Tassel Colors for each Meditation Necklace
Authentic Buddhist Prayer Beads Necklace Jewelry: Protection Mala
These beautiful and real Authentic Mala Beads Buddhist Necklaces are made from the same materials as our Meditation Monk Bead Necklaces. They have however been designed to be worn as jewellery and include a silver guru bead that replaces the wood guru bead as used in the Meditation Mala. 
This selection includes Stone Mala Beads Buddhist Necklaces that are generally not used for meditation, but have been blessed by Monks for Personal Protection and Blessings for the wearer.  These beautiful Real and Authentic Mala Bead Buddhist Necklaces make the ultimate gift for the Genuine Spiritual Person. 
Most Buddhist Prayer Beads Necklaces have options of Rea, Black or Yellow Tassel Colors
Genuine Buddhist Prayer Beads Meditation Necklaces: Blessed by Thai Monks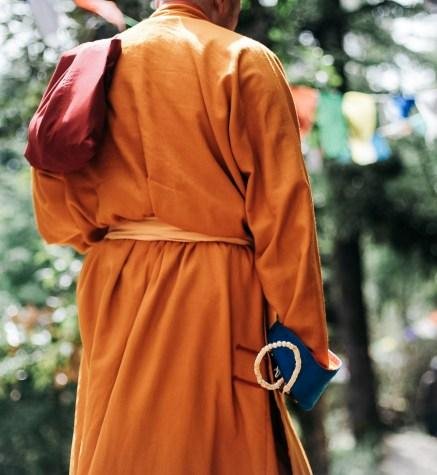 Prayer beads of most religions include the sacred 108 bead numbers used in Hinduism. Buddhist tradition also adopted the Prayer Beads, keeping the number of the beads at 108. While there are different reasons for this number within each tradition, the original reason for 108 remains largely speculation. Buddhist Mala Beads Necklaces most common explanation for the use 108 beads are
1) Signifying the 108 mortal desires of mankind
2) Allows for 100 Mantas plus 8 mistakes in counting.
3) 27 Constellations x 4 Padas (parts) = 108
4) 12 Zodiac Houses x 9 Planets = 108
5) Upanishads or the Scriptures of the Vedas = 108
Thus, when we recite or recount number 108, we are actually remembering the entire universe. This reminds us of the fact that the universal self is omnipresent, that is the innate nature of the self
Every Authentic Mala Bead Buddhist Prayer Necklace sold includes includes a Certificate of Authenticity and Thai Silk Bag included free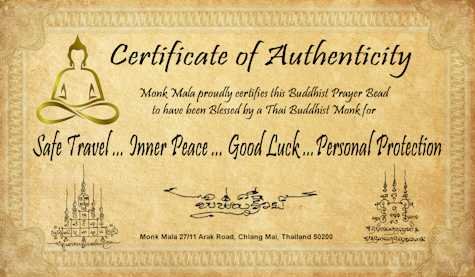 Monk Blessed Mala Beads Buddhist Necklaces: Monk Mala is part of Sak Yant Chiang Mai; which is a small co-op of over 10 Sak Yant Monks and Ajarns providing Sak Yant Tattoo's in Chiang Mai Thailand.
With regular Visits to Temples for the Monks Sak Yant Tattoo, we are able to take each Authentic Buddhist Mala Bead Necklace with us for a special blessing for our customers.  The Sak Yant co-op also allows Monk Mala to source it's Authentic Buddhist Mala Bead Necklaces from the same small local suppliers that the Monks and Ajarns themselves use.

Free International Shipping

100% Genuine Authentic Mala Beads